Theatre Companies
Théâtre du Soleil – Ariane Mnouchkine | Le Odin Teatret – Eugenio Barba |
Le Wooster Group – Elizabeth LeCompte | La Societas Raffaello Sanzio – Romeo Castelucci |
Les Ballets de Wuppertal – Pina Bausch | Les Ballets C de la B – Alain Platel |
Cheek by Jowl – Declan Donnellan | Teatro de los Andes – César Brie |
Le Carnicería Teatro – Rodrigo García | Théâtre de Complicité – Simon McBurney
Théâtre du Soleil
© Pascal Victor
Title: Richard II
Playwright: William Shakespeare
Production: Théâtre du Soleil, 1982
Adapted and directed by: Ariane Mnouchkine
Set: Guy-Claude François
Masks: Ernard Stiefel
Costumes: Jean-Claude Barriera and Nathalie Thomas
Music: Jean-Jacques Lemêtre.
Since its inception in 1964, the Théâtre du Soleil has left its mark on the history of theatre with Ariane Mnouchkine's inimitable productions, which interweave Western and Eastern traditions. In 1970 the French company began working out of Cartoucherie de Vincennes on the outskirts of Paris, where it produced such works as 1789 (1970-1971), performed at the Piccolo Teatro, and two four-year cycles: "Les Shakespeare" (Richard II, 1981; Twelfth Night, 1982; Henri IV, 1984) and "Les Atrides" (Euripides' Iphigénie à Aulis, 1990; Aeschylus's Agamemnon, 1990, Les Choéphores, 1991 and Les Euménides, 1992). Sumptuous and spectacular, each of these works incorporates Eastern influences, including Indian danced theatre and Japanese noh. Regarding theatre as a sanctuary, Ariane Mnouchkine values the actor's contribution above all else. The actor must have a "good body" and excel in a variety of disciplines: acting techniques, song, dance, even acrobatics on occasion; culture and life experience are also fundamental to the acting profession.
On the Théâtre du Soleil:

On Ariane Mnouchkine :

« La seconde peau de l'acteur » in Mise en scène et jeu de l'acteur tome 2 by Josette Féral, Jeu / Lansman, 1998, p. 199-227.
Odin Teatret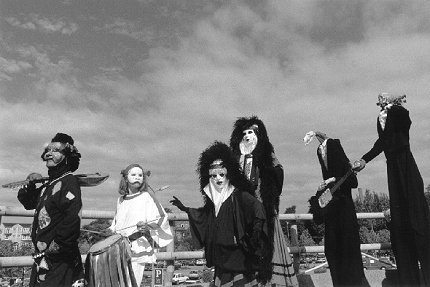 Odin Teatret (rediriger)
The renown of the Odin Teatret stems not only from its performances, which embody a veritable science of stage language, but also from its meetings, seminars and conferences, along with the accompanying publications and films. These activities, which are linked with the International School of Theatre Anthropology, are designed to encourage reflection on the common features of the acting techniques of different cultures.
Before founding the Odin Teatret in 1964, Eugenio Barba left his native Italy at the age of 17, hitchhiking north. He remained in Oslo, where he completed a degree in French, Norwegian literature, and History of Religion. A bursary from UNESCO allowed him to leave for Poland, where he worked for three years as an assistant to Jerzy Grotowski at the Teatr 13 Rzedow in Opole. Back in Norway, where as a foreigner he was not welcome as a theatre director, Barba started his own theatre, recruiting young people who had not passed their admission exams to the Oslo State Theatre School. The theatre's first production, Ornitofilene (1966), led to an invitation from the small town of Holstebro to create a theatre laboratory. That laboratory, Odin Teatret, has been Eugenio Barba's base ever since.
After the Nordic inspiration of Barba's early productions—Kasparina (1967) and Ferai (1968)—the life of Dostoyevsky served as inspiration for Min Fars Hus (My Father's House, 1973), a work that led to international recognition for the company and its director.
On the Odin Teatret:

On Eugenio Barba :

« Faire du théâtre c'est penser de façon paradoxale » in Mise en scène et jeu de l'acteur tome 2 de Josette Féral, Jeu / Lansman, 1998, pp. 69-93.

By Eugenio Barba :

La Terre de cendres et de diamants : mon apprentissage en Pologne ; followed by twenty-six letters from Jerzy Grotowski to Eugenio Barba, l'Entretemps.
L'Archipel du théâtre, Bouffonneries.
L'Énergie qui danse : l'art secret de l'acteur : un dictionnaire d'anthropologie théâtrale, Bouffonneries.
The Wooster Group
© Louise Oligny
Title: The Road to Immortality Part 3: Frank Dell's The Temptation of St-Antony (presented during the 3rd edition of the Festival de Théâtre des Amériques)
Production: The Wooster Group, United States, 1989
Director: Élizabeth LeCompte.
Born of the cultural movements of the 1960s, this experimental American theatre group produces works known for their rapidity of execution and unbridled energy. The Wooster Group was formed in 1980 by seven artists, among whom Élizabeth LeCompte, Kate Valk and Wilhem Dafoe. From the beginning, it combined techniques and forms of expression that reflected our evolving culture: installations, found objects, deconstructed texts, dance and movement, multi-track scoring, and an architectonic approach to theatre design. Whether it be texts by Chekhov (Brace Up, 1990, based on The Three Sisters), Eugene O'Neil (The Hairy Ape, 1995) or Gertrude Stein (House Lights, 1997), the productions of Élizabeth LeCompte often make overt reference to mass culture, integrating dance, music and painting. As opposed to a psychological approach, the actors parody television hosts, or speak with their backs to the audience as monitors display close-ups of their eyes and a sound technician distorts their voices. The Wooster Group has created and performed all of its theatrical works at the Performance Garage in Soho, New York City, and its productions have toured extensively throughout the world.
On The Wooster Group:

On Elizabeth LeCompte :

« Dire non à Stanislavski », interview with Élizabeth LeCompte and Kate Valk in Mise en scène et jeu de l'acteur tome 2, de Josette Féral, Jeu / Lansman, 1998, p. 125-132.
La Societas Raffaello Sanzio
© SRS
The theatre of the Societas Rafaello Sanzio often takes on highly unusual forms. The theatre's literal adaptation of Aesop's Fables (1992), for example, was set on country paths and in caves, and included three hundred species of animals. Two couples form the nucleus of this Italian company: Romeo Castelluci is the stage designer and director, while his sister Claudia creates the choreographies; Ciara Guidi is the dramaturgical and vocal consultant, while her brother Paolo designs the lighting. The children of Romeo and Ciara, moreover, sometimes appear in the productions. Their works are often strangely titled: Hamlet: the Vehement Exteriority of the Death of a Mollusc (1992), for example, or Genesi: From the Museum of Sleep (2000). The opening scene of the latter depicts Marie Curie's discovery of radium, along with strange characters bathed in an almost nuclear light. The imposing sets contain frescoes painted by the director himself, whole sections of which can come tumbling down in an apocalyptic crash. Castellucci's style can both shock and enthrall: orchestrated chaos, actors with strange bodies, including the caged contortionist in Genesi. With the excess and outrageousness of a visionary, this director chooses to depict disasters, historical dramas and human cataclysms; his images touch us physically, rattling the eardrum and retina, but also emotionally, at the deeper level of the unconscious.
© Gabriele Pellegrini
Title: Genesi
Created and directed by: Romeo Castellucci
Production: Societas Raffaello Sanzio (SRS), 1999
Set: Original music: Scott Gibbons
Lyrics: Chiara Guidi
Movement: Claudia Castellucci
Children on the photo: Teodora, Demetrio, Agata, Cosma, Sebastiano, and Eva.
On La Societas Rafaello Sanzio:

By Romeo Castellucci:

Les Pèlerins de la matière, Solitaires intempestifs.
Epitaph, Solitaires intempestifs.
Les Ballets de Wuppertal
© Pascal Victor
Pina Bausch and her Tanztheater have revolutionized modern dance with its fusion of dance and theatre. For over thirty years, the German choreographer and her troupe have been based in the industrial city of Wuppertal. The daughter of a restaurant owner, Pina Bausch began her studies in dance at the age of 14 in a school directed by Kurt Jooss, a leading figure in German expressionist dance. After two years at the Julliard School in New York, she danced with such companies as the New American Ballet and the Metropolitan Opera. Her first choreographies were created in 1968. Her career took a dramatic turn with Bluebeard (1977), inspired by Béla Bartók's opera Bluebeard's Castle, which she infused with a theatrical intensity that would become her trademark. Constructed from preliminary collaborations with her performers, the danced theatre of Pina Bausch relies on both speech and improvisation. Her collaborations with set designers R. Borzik and Peter Pabst have contributed to her stage designs, which may include flowers, grass, water or dead leaves on a stage of a great depth, allowing large-scale group interactions.
© Pascal Victor
Title: Café Müller
Created and directed by: Pina Bausch
Production: Tanztheater Wuppertal, 1978
Set and costume design: Rolf Borzik.
On the Tanztheater de Wuppertal:

On Pina Bausch:

Pina Bausch ou l'Art de dresser un poisson rouge by Norbert Servos, l'Arche.
Les Ballets C de la B
© Chris Van der Burght
The bold productions of Ballets C de la B ("Contemporains de la Belgique") combine a variety of artistic disciplines with actor-dancers from diverse backgrounds. Founded in 1984 by Alain Platel, this socially committed troupe has dedicated itself to breaking down the barriers between dance, theatre, music and the street arts. A trained orthopedist, Platel studied at Marcel Hoste's school of mime at the age of 11 before studying modern dance in Paris with Canadian choreographer Virginia Meyers. Platel defines himself as a catalyst who creates images and organizes the ideas of his performers, which reflect and embody contemporary society. Set on an urban rooftop with satellite dishes, air conditioning vents and plastic garden furniture,Lets op Bach ("A Little Something Set to Bach," 1998) is a frenetic tangle of seemingly random events: a man allows bowling balls to rain down on his taut stomach; another sports gloves of fire; circus entertainers or asylum inmates are bruised and battered while nine classical musicians perform music by Bach. The unclassifiable works of Les Ballets C de la B feature dancers with both classical and contemporary training, as well as children, fairground performers, and amateurs with no theatrical experience whatsoever.
© Chris Van der Burght
Title: Iets op Bach (presented during the 8th edition of the Festival de Théâtre des Amériques)
Production: Les Ballets C. De la B./ Ensemble Explorations Belgique, 1999
Concept and choreography: Alain Platel
Musical direction: Roel Dieltiens.
Cheek by Jowl
Founded in 1981 by Declan Donnellan and set designer Nick Ormerod, Cheek by Jowl has travelled the world, performing in nearly three hundred cities in forty countries. This innovative company specializes in both British and European classics, including works by Alfred de Musset, Racine, Corneille and, of course, Shakespeare ("Follow? Nay, I'll go with thee cheek by jowl," says Demetrius in A Midsummer Night's Dream). Born in England of Irish parents, Declan Donnellan acted in an amateur troupe while studying law for five years at Cambridge. After dramatizing Thackeray's Vanity Fair (1983) and staging various Restoration comedies and Jacobean tragedies, he directed Corneille's Le Cid (1986) for the Avignon Festival in France, which was acclaimed throughout Europe. Invited to Paris by Peter Brook, he presented Shakespeare's As You Like It (1995) with an exclusively male cast. For this award-winning artist, the art of the actor constitutes the essence of theatre, as he theorizes in his book The Actor and the Target, published in Russian (2001) and English (2002).
By Declan Donnellan:

The Actor and the Target (London: Nick Herne Books, 2002).

On Cheek by Jowl :
Teatro de los Andes
© Archivo Teatro de los Andes
The Teatro de los Andes has toured the world with a dozen productions permeated by socio-political themes. Since 1991, the year it was founded, the ten-member company has used an abandoned farm near the city of Sucre, Bolivia, as a laboratory for teaching and creation. The patriarch of this theatrical community, César Brie, fled Argentina in 1976 to escape the dictatorship. He lived and worked in Denmark, Italy and Poland before settling in Bolivia. In 2000 his troupe staged La Illiada, which forged a link between past and present, making reference to the painful history of South America and the monstrous stupidity of modern wars. Skilled actors who can also dance, sing, play an instrument or perform acrobatic feats move from the tragic to the grotesque, bearing diverse objects in an unadorned set. A leather-clad Apollo, the goddess of the sea wearing flippers, and a Zeus in suit and tie are among the characters who participate in this crossbreeding of Western and Andean cultures. The result is a theatre of great lyricism, imbued with the political and aesthetic concerns of its creators.
© Reinhard Manz
Title: La Iliada
Adaptation: César Brie adapted from Homer
Production: Teatro de los Andes, Bolivia, 2003
Set design: Giancarlo Gentilucci
Costumes: Maria Teresa dal Pero, Soledad Ardaya, Alice Guimaraes, Giancarlo Gentilucci
Marionnettes: Gonzalo Callejas
Lighting: Giampaolo Nalli and Silvio Martini.
On Teatro de Los Andes:
La Carnicería Teatro
© Alain Dugas
The productions of La Carnicería Teatro stray from the beaten paths of traditional theatre onto the tortuous and often troubling roads of experimentation. Born in Buenos Aires in 1964, the son of a butcher, Rodrigo García formed La Carnicería Teatro ("theatre of the butcher shop") in 1989. The versatile author, set designer, plastic artist, video artist and director has lived and worked in Madrid since 1986. Influenced by Beckett, Arrabal and Müller, García's politically engaged texts have been translated and produced in numerous European countries. The troupe's wild and forceful works combine dance, music and performance with García's irreverent texts and innovative scenographies that are physically demanding for the actor. In Sicily in 2003, Rodrigo García presented an otherworldly adaptation of Aeschylus' Agamemnon culminating in a military ceremony honouring well-cooked chickens, which white-gloved hands inserted into tiny coffins draped with American flags. This provocative, yet compassionate, theatre also invites audience participation in its denunciations of the absurdities of contemporary society.
© Sofia Menendez
Title: After sun (presented during the 10th edition of the Festival de Théâtre des Amériques)
Written, designed, and directed by: Rodrigo García
Production: La Carnicería Teatro, Spain, 2003
Lighting: Carlos Marquerie.
On La Carniceria Teatro :

By Rodrigo García (in French translation):

Notas de cocina (Notes de cuisine), trans. Christilla Vasseyrot, Solitaires Intempestifs.
After Sun and L'avantage avec les animaux, c'est qu'ils t'aiment sans te poser de questions, trans. Christilla Vasseyrot, Solitaires Intempestifs.
Complicite
Active on four continents, Complicite is devoted to contemporary creation, writing its own works or basing them on non-dramatic texts: Light (2000), for example, was adapted from the novel by Torgny Lindgren. It also revives classic texts, such as Shakespeare's A Winter's Tale (1992), Brecht's The Caucasian Chalk Circle (1997) or Ionesco's The Chairs (1998), translated by Martin Crimp. The company's artistic director, Simon McBurney, co-founded Complicite in 1983. After studies at Cambridge and Jacques Lecoq's school in Paris, he developed an exploratory workshop that emphasized contributions from actors, long hours of rehearsal, and a stagecraft that integrated music, images, text and action to create an inventive, vibrant and often disquieting theatre. In Mnemonic (1999-2001), in which tourists discover a shrivelled naked body emerging from the ice of a mountainside, stories of journeys fragment, reflect, repeat and revolve like the act of memory itself. With a cosmopolitan cast, this frenetically paced production employs transparent plastic curtains that allow the various scenes to be superimposed.
On Complicite: